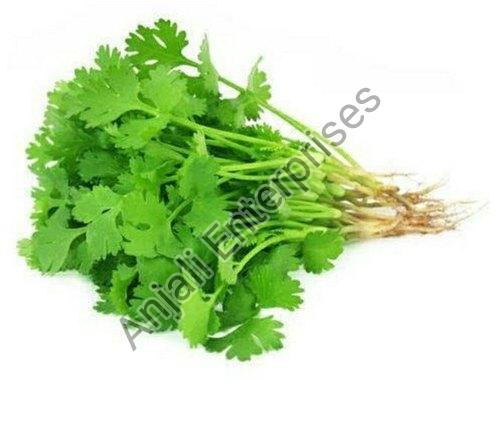 Coriander leaves popularly known as "Dhaniya '' in Hindi is an aromatic herb belonging to the Apiaceae family of plants, that is extensively used around the globe. All parts of the plant are edible, but most of the people commonly use the fresh leaves and dried seeds in cooking. These fresh leaves are one of the oldest herbs that can brighten up your dish, add pleasant flavour and make it look appealing and tempting. Everyone is quite familiar with a strong aroma released by the coriander leaves when they are finely chopped or bruised.

Revitalise your health with Coriander Leaves
The fresh leaves of coriander are an important ingredient in many foods such as chutneys, salads, soups, curries and it is used to garnish the food as well. Coriander leaves are the must have ingredient in the Indian cuisine owing to its vibrant green colour and pleasant aroma. In addition to this, they confer enormous health benefits including regulating blood sugar levels, protecting the liver and kidney and providing useful antioxidant properties, proteins and dietary fibre. It also supplies key nutrients and offers a host of wellness advantages. Some of them are enlisted below-

Supports Healthy Immune System:- These leaves are rich in vitamin A, C and E along with several antioxidants which helps in boosting immunity.
Regulates Blood Sugar Levels:- The bright green colour of coriander leaves is due to the presence of antioxidants, which helps in promoting enzyme activity. Therefore, it stimulates insulin secretion which results in lowered blood sugar levels.
Strengthens Bone Density:- It has connecting tissues enriched with minerals like calcium, manganese, phosphorus and magnesium which soothes the joint pains in arthritis.
Helps in Treating Liver Dysfunction:- It has generous amounts of alkaloids and flavonoids which helps in curing liver problems like jaundice and bile disorders. It also helps in proper functioning of the liver and detoxification of the body.
Improves Overall Heart Health:- Regular consumption of coriander leaves helps in flushing excess sodium and water from the body which ultimately regulates blood pressure levels and cholesterol levels. Hence, it promotes good health of the heart.
Promotes Healthy Vision and Skin:- It has a great amount of Vitamin A, C and E which helps in improving eyesight. Along with these vitamins, the presence of antioxidant and antiseptic properties helps in fighting skin problems like ageing, excess oil, acne, skin damage etc.

In India, major coriander leaves producing states are Andhra Pradesh, Tamil Nadu, Karnataka, Rajasthan and Madhya Pradesh which accounts for around 85-90 percent of total production. Major portion of the production is consumed locally because of its huge demand. Fresh coriander leaves are available in the market through vegetable vendors. In order to fulfill this germinating demand, there are numerous companies who are engaged in the business of supplying wholesale coriander leaves.

The providers of wholesale coriander leave suppliers should take due care of the following aspects:-
• They should offer fresh coriander leaves which are handpicked by professionals.
• They should have an advanced infrastructural unit with the latest machines in order to increase production capacity.
• They should pack the entire range in a high packaging material in different sizes as per the customer's needs.
• They should have an in-house quality testing team to ensure the availability of top notch quality coriander leaves.
• They should have a separate warehouse which is properly ventilated and sanitized.
• They should offer their products in the market at nominal prices.

Hence, it can be strongly stated that to become a leading wholesale coriander leaves supplier, one should be capable of providing this wonderful herb with optimum satisfaction to the customers.
This entry was posted on June, 11, 2021 at 13 : 20 pm and is filed under Coriander Leaves. You can follow any responses to this entry through the RSS 2.0 feed. You can leave a response from your own site.